Reggae Souljahs Compilation CD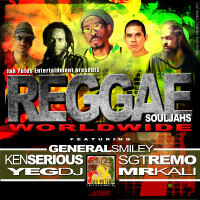 Posted on July 20, 2011. Maria Jackson Magazine
GREETINGS TO ALL THE REGGAE SOULJAHS EVERYWHERE! We are glad to present to you the "Reggae SoulJahs Worldwide Vol. 1″ compilation album. 
In total there are 16 tracks. All Killer-No Filler! We hope that everyone will enjoy listening to the album as much as we have enjoyed the entire process of putting this compilation album together. At times the deadlines and the stress of putting this project together were overwhelming, but in the end we are all excited to share this with YOU! The album features three songs from each of the Reggae SoulJahs. 
Who are the Reggae SoulJahs? 
Reggae SoulJahs Worldwide is the creative collaboration between several of todays best reggae artist. The SoulJahs include legendary Jamaican artist General Smiley, veteran Jamaican artist Ken Serious, New Mexico's premier reggae dancehall artist Mister Kali, Mexican born singjay Sgt. Remo, and one of Denver CO's best reggae/dancehall/dub/dubstep DJ's Yahru El Guru (YEG.DJ). 
Reggae SoulJahs began working together in 2008 and have continued performing and collaborating since. They have brought the old and the new schools of reggae together as one captivating audiences all over the U.S. 
Album Information: 
This album is the culmination of several years of work and features the members of the Reggae SoulJahs not only as artists but on the production side of the house as well. There are several featured riddims on this album. The first is the Chanting Riddim produced by General Smiley's Ruff Company Records. It features Ken Serious' hit song"Chanting" and Sgt. Remo's "Third World Anthem". The second featured riddim is the More Than Gold Riddim produced Mister Kali's Dread I Arts and Ceremony Studios. Featured on this riddim are Mister Kali and AeZ Rock's "More Than Gold", General Smiley's "Let It Go", and Sgt. Remo's "Jah SoulJah". The third featured riddim is the Brighter Smile Riddim also produced by Dread I Arts and Ceremony Studios. On this riddim you will find Mister Kali's top new tune "Samson & Delilah" and Sgt. Remo's smash hit song "How Long". 
Other riddims on the album include Ken Serious' production of "Lively", as well as guest production by Albuquerque, NM's top reggae producers Full Grown Studios. Full Grown Studios provided the riddims for Sgt. Remo's "Thunder & Lightning" and Ken Serious' "Defend Mi Right". 
The album is rounded off by dub/dubstep remixes by Yahru El Guru and Tony "Nighta" Garcia. Together they add a new dimension to the Reggae SoulJahs' music reaching out to a new audience while maintaining the message and vibration of their music. 
About the music: 
We hope that you can listen to this album from beginning to end without having to skip any tracks. Every song on the album is a hit. Each song was carefully selected to be part of this unique project. If you listen to the lyrics you will find the message of unity and hope prominent in every song. This is what has made reggae music popular across the world. We realize the power of music and the resposibility and opportunity that comes with it. We take great pride in our music and we hope that you "the listener" will FULLJOY our album.